Currently there is a Rowans Bowling League that takes place every Tuesday evening.
Just turn up before 7.30pm, register your name at reception / control desk.
Practice bowling commences at 7.30pm and League bowling starts at 8pm
The League is a brilliant night out to meet new friends, improve your bowling and most importantly, enjoy yourself in a safe friendly environment. More and more people of all ages are getting into bowling as a fabulous social sport to stay mentally fit and healthy. We currently have bowlers from all age groups from their 20's to 60's!
There are no long league formats that you have to commit yourself to for 40+ weeks!! Our League is flexible to fit in around people's busy schedules.
Leagues are 12 weeks long, apart from the end of year season which is 10 weeks and each season is followed by a presentation night – BUT you don't have to bowl all 12 or 10 weeks. You can if you want of course, which helps you win the weekly prizes, but your best 6 weeks will count to your final league position. You just have to bowl a minimum of 6 weeks to be eligible to win an end of season prizes.
Plus it gets even better as we only count your best 2 games out of your 3 bowled for your league positions.
So what are other benefits of joining the league?
Connect With Others
By joining a league you'll instantly begin to connect with new people. Whether you join the league with friends or family members, or come on your own, a bowling league is a great way to meet new friends.
Prizes and Presentation Nights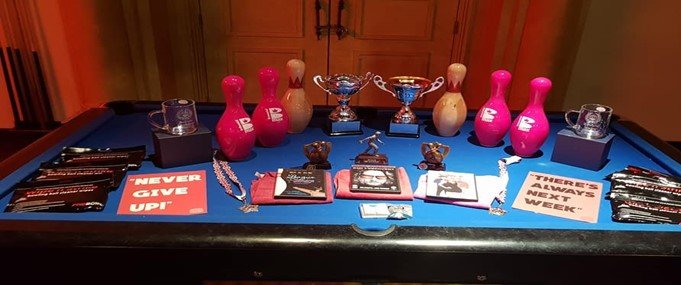 Tuesday night's Bowling League is an individual league with a handicap system that reflects on the ability of all bowlers, with fabulous weekly prizes that are always keenly contested because of the handicap system.
Everyone has a chance to win cash prizes for the top 3 bowlers each week – paid out on Presentation Night At Rowans, unlike at many other centres across the UK, the prize fund is included in your bowling game rate.
Presentation nights are an evening of fun bowling that follows the presentation to the winning bowlers of the season. Prizes are equally distributed for female and male bowlers.
In addition there is also a bowling competition following the presentations, where other prizes can be won.
A Chance to Unwind
In addition to getting in some exercise and socialising with others, bowling is an activity that many feel gives them a chance to unwind. A Bowling league will give you a chance to get out on a weekly basis and award you with a much-needed break from the daily grind. If you are getting burnt out at your job or simply want to enjoy some "me" time, a bowling league is a great way to achieve that.
Enjoyment all the way
Our Bowling league is really the ultimate package — you get to meet new friends, enjoy some competition, possibly win some prizes, get some exercise, unwind, de-stress. It's fun to get out every week and play with your friends as you try to improve your average score, and you can also learn some tips from players, who have been playing for a long time. No matter your background or experience, a bowling league is for you.
Rowans Bowling League is a brilliant night out to enjoy yourself and keep active and fit all at the same time!
No wonder Rowans is always in a bowling league of its own in North London!
Check out this link to see and hear from other league bowlers on a Tuesday evening https://www.bowltogether.org/the-films
For more information about the Tuesday League please email Chris at: rowansbowlingleague@mail.com
For any other general questions about bowling bookings please email: info@rowans.co.uk
https://rowans.co.uk/wp-content/uploads/2016/04/logo.png
0
0
admin
https://rowans.co.uk/wp-content/uploads/2016/04/logo.png
admin
2009-03-27 00:00:00
2021-09-07 10:47:34
Bowling Leagues at Rowans